I thought that day will never come. It's so funny. Can u believe that I felt in love in this long, human legs? This drill in my heart. Awesome feeling. I have in front of me her pretty face. Her smile is compelling. I don't have enough power to resist her beauty. Why this is so strong? I miss her like I miss my dad. Maybe in little other way, but it's full of vivid emotions. I'm really emotional dwarf. Sometimes I think I'm not dwarf at all. Why? Dwarf can't be type of emotional Gnomeo (Gnomeo is known from his famous romance with Juliet)! It conflicts with stereotype!
Like on example: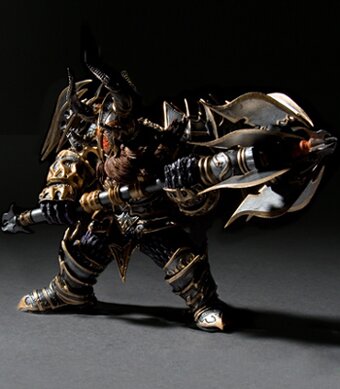 Dwarf must be strong!
Dwarf must have beard to his knees!
Dwarf (the real one) must be warrior with enormous axe!
Rules of being dwarf are simple as you see. This are our race-characteristic symptoms.
But what with love? Can the real dwarf be in love? Is there any possibility that the grim murderer will be the calm and friendly in his home? War always have an influence on dwarf being. The eyes of Death can completely change the people. Same as look of Love. It's the sense of life! These two fantastic mighty powers!
Did u ever feel real love or real danger?
Like me? The Dwarfogan is destroyed. The city of ghosts. The ruins of forgotten hope. I don't know why I'm writing it right know, but it's stronger than me. I can't hide my emotions. I can't hide that I feel real love and real danger in once. The capital city of all Dwarfs is ruined. I'm alone. Nobody is my brother anymore. The world is full of empathy. The world is full of enemies- enemies, who live in Scarlet Kingdom.
I'm training hard from now. My muscles must be bigger. I must be a one man army. I must fight for my previous happiness. The revenge for my dad is closer. However I'm still dreaming about that he is alive. Is he? I don't know. I don't know nothing. I must find the way how to blow up the Glorious Victory, the capital city of human motherland. As I said I'm going to Scarlet Kingdom to face the sad reality. To find my love (long-leg love especially), my father and the real…
ADVENTURE!
Journey to my heart to meet Love and Death together.
Together! Why?! Because I'm Dhungor the Observer and I want my vengeance! I want to kill Love and Death together! Am I crazy? Not. I'm just the real hero, who knows the two sides of this coin:
Coin of humanity.